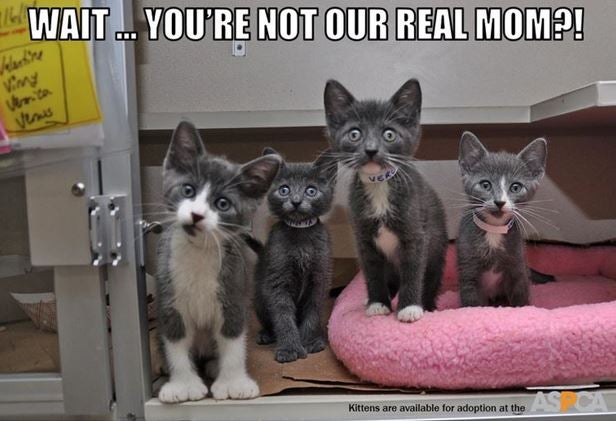 From top left...Nana at 16 years...my mother as a baby and Nana on her wedding day

Circa 1953/4...my mother modelling in a fashion parade for a Gympie dress salon
Hmmm! That was sneaky! Without forewarning, the month of May snuck in an extra Sunday, which means Sunday just gone, the 8th, the second Sunday in May, was Mother's Day. My apologies for my oversight in being late wishing Mums a Happy Mother's Day. I hope you had a good one. Every day is Mother's Day, or should be, so please don't be too hard on me! As it is, most of the time I don't know what day it is! I don't need May's help to add to my confusion.
I don't have any children, but I do have my fur babies. I gave up asking them to give me breakfast in bed years ago. The one time they heeded my request, they insisted on joining me. What a mess that ended up being!!
A few weeks ago I watched a documentary titled, "Lucy and Desi". The title is a give-away, of course. The documentary is about Lucille Ball and Desi Arnaz. It follows the recent biographical drama, "Being the Ricardos", which features our own Nicole Kidman's excellent portrayal of Lucille Ball.
In my opinion, both the documentary and the film are worth watching. Lucille Ball certainly was a force to be reckoned with…a woman way before her time. The ball was in her court. She ran with it, shooting goals left, right and centre. She paved the path for future female artists. Lucille was a strong, talented, beautiful woman.
When my late brother Graham and I were kids, and even when we were adults, for a bit of fun we'd tease our mother relentlessly, likening her to "Lucy". Lucille Ball wasn't a natural red-head, but our mother was. With her sparkling blue eyes flashing in feigned annoyance, Mum would toss back her flaming locks whenever we teased her. Our mother was a tall, good-looking woman, with a "good figure"…the flattering description used back "her day". Mum knew our teasing bore no malice. Graham and I were aware enough to understand she secretly enjoyed our mischievous banter. We weren't allowed to be cheeky, but we were allowed to have fun as long as it harmed no one.
Sadly, our mother passed away at the young age of 54 years. On 17th February, 2022, Mum would have turned 102.
My brother and I were raised under the watchful eyes of two mothers…our mother and our Nana, who our mother called "Mumma". Come Mother's Day we spoiled both ladies. Bouquets of chrysanthemums from our garden accompanied the simple presents we bought with pocket-money we'd earned by returning newspapers and bottles to the shops in exchange for coins. Our gifts may have been humble, but they were given with love; and received with love. It has been said memories lock us in the past. Frequently, I feel that's not so bad, particularly when the present too often isn't crash-hot. For me, there are many areas I wouldn't mind being locked into…I'd be a contented prisoner.
When I was a kid we didn't have a car. We walked everywhere…up and down the hills of Gympie. To visit Tin Can Bay, which we sometimes did for a spot of fishing, crabbing, and oyster-gathering…and to be eaten alive by sand flies…we travelled by bus. It was a special treat, as was the abundant fresh seafood, but not the abundant sand flies. One time, and one time only, my brother rode his push bike to Tin Can Bay. He hitched a ride home on the bus.
Our eyes were glued to the colourful surroundings, not devices. The only phones we used were outside Gympie's post office. To my knowledge, these days there is only one payphone here on the mountain. Since October, 2021, to make a call, coins aren't acceptable. Next time I have trouble with my phone service. I'll set up camp beside the payphone, or use tom-toms and smoke signals. The latter might be easier.
Life appears to be more difficult in this so-called "modern era" than it was back in the past where we sometimes become imprisoned by our memories. Please pass the bread and water. Ahhh…the good old days of old…
Savoury Bread Pudding: Place pan on med-heat; coat base with x-virgin olive oil; add 1 thinly sliced onion. Stir occasionally; cook 3mins; add 3 minced garlic cloves; sauté 2mins. Add 1-1/2c halved cherry toms and 1 zucchini cut into thin circles; cook 5mins. Add 1-1/2c chopped kale, 1-1/2tsp thyme; season to taste. Stir until kale begins to wilt. Whisk together 6 eggs and 1-1/2c milk. Coat casserole dish with olive oil; spread 2c sourdough loaf cut into 1-inch cubes on bottom; top with ½ of the veggies; then layer another 2c bread cubes and veggies on top. Pour egg/milk mix over; crumble feta over top. Nestle some pieces underneath the bread cubes. Chill up to 1 day before cooking, if desired. Place uncovered in preheated 175C oven; cook 45-50mins, until it starts to bubble up and crisp.
Ham-Cheese Puffs: Use a 7cm cutter to cut 16 rounds from 16 thick slices of bread. Using 250g sliced mozzarella and 160g thinly sliced smoked ham, place on half of the bread rounds. Top with remaining bread rounds. Whisk 3 eggs and 1/2c milk. Place each round into mixture for a few seconds to soak. Transfer to pie maker. Repeat with remaining rounds. Cook 7mins, or until golden and cooked through; repeat with remaining rounds.
Tomato-Corn-Avo Toast: Combine 3 diced plum tomatoes, 2 thinly sliced scallions, 1 finely chopped jalapeno, 1c fresh corn kernels and 4tbs lime juice; season. Gently mash 3 avocados evenly onto 6 slices of toasted crusty bread; top generously with tomato-corn salsa.